Giving & Community
The Giv Shoppe is one part of a broad community of care we're building. Together, we support survivors, previvors and caregivers.
GIVING BACK
Why We Do It
In 2019, Lauren Lopriore started Liv & Let- Thriving Through Breast Cancer to offer the resources she needed during her own fight with cancer and then as a support for friends who had been diagnosed with cancer. Her blog became an information hub of events, information and product recommendations for those who have recently been diagnosed, those going through treatment, those who are learning about their family history and interested in prevention as well as for caregivers. In sharing her story as a young adult cancer survivor, Lauren is creating space and empowering others impacted by breast cancer including previvors, survivors and caregivers.
As a part of that ongoing mission and effort, a percentage of proceeds from the Giv Shoppe will be donated to charities empowering the breast cancer, cancer and mental health communities through research, education and care.
Survivors, Thrivers & Caregivers, sign up for the Liv & Let newsletter and receive a special code to always use when shopping with Giv Shoppe!
Monthly Donated Crates
Beyond our yearly giving initiative, we look for opportunities to bring love, support and delight to one individual a month by sending a donated care kit to a nominated member or partner of the Liv & Let community.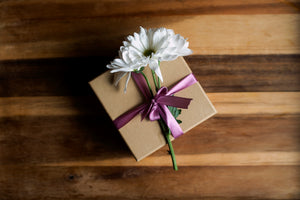 Nominate Someone for a Monthly Crate
Have a previvor, survivor or caregiver you'd like to see receive a personalized gift of care? Tell us a little about them in the form, and they'll be in consideration for our monthly donated crate.
*Please nominate one person per month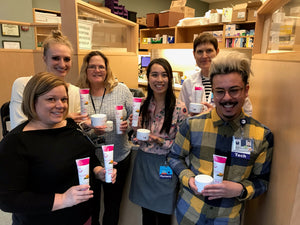 SUPPLIER SPOTLIGHT
Theresa Keresztes | My Girls Skin Care
My Girls Skin Care is a line of sensitive skin products formulated specifically to address skin conditions common to those seeking medical treatment. The line started with an original formula using key ingredients of like Hungarian Thermal Water and Hungarian Calendula Ocianalis Extract. Calendula is known for is ability to reduce inflammation and redness. My Girls Skin Care was founded by Theresa Keresztes, who discovered the healing power of calendula during her own treatment for breast cancer. The cream resolved her radiation-induced dermatitis and calmed the radiation site so she could finish radiation without skin reactions that can cause delays.
SHOP MY GIRLS SKIN CARE PRODUCTS
In the Press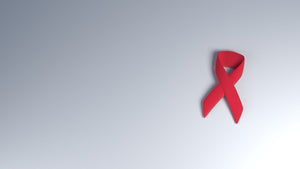 Lauren shared her journey and plans for the future with Jenny & Sheena, the hosts of the podcast And Then We Had Kids, in their Breast Cancer Awareness Month episode.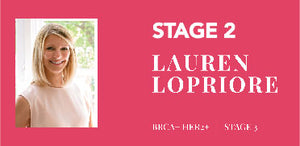 Read about Lauren's experience with diagnosis, treatment and the unexpected challenges of survivorship on the Dr. Susan Love Foundation blog.

Learn how a conversation in a forest with her husband inspired Lauren in the creation of the Giv Shoppe in this feature in Cancer Wellness Magazine.
STAY CONECTED
Join the Giv Community
Here's to survivors, previvors and caregivers.
See how we support, celebrate and champion those impacted by cancer.